View Our Spaces
Museum of the Moving Image offers exceptional rental spaces. The Museum's dynamic new building can accommodate a wide range of events.
View venue capacities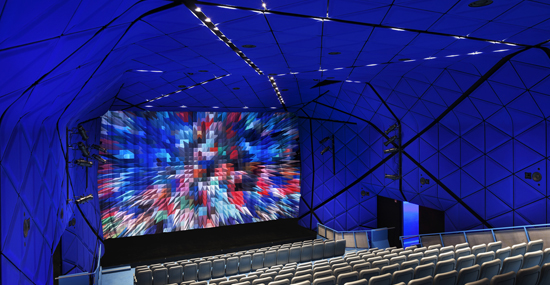 The Sumner M. Redstone Theater
A state-of-the-art facility—beautifully designed with blue felt-paneled walls and stadium seating—the Sumner M. Redstone Theater offers the latest technology and equipment, accommodating all film formats from 16mm to 70mm and Digital 3-D. 267 seats.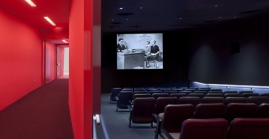 Celeste and Armand Bartos Screening Room
An intimate space for education programs, special screenings, lectures, and seminars. 68 seats.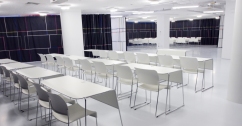 Digital Learning Suite
This flexible space can accommodate up to 240 guests for a seated dinner. The room can be configured into two separate classrooms, each with its own projection facility.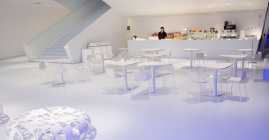 Café
The 44-seat café can be repurposed by removing the tables and chairs. With the addition of the lobby and/or the William Fox Amphitheater, this gathering space with courtyard views offers a variety of flexible floorplan options.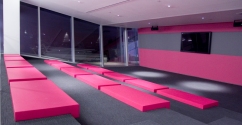 William Fox Amphitheater
The William Fox Amphitheater can accommodate 54 guests and features an LCD monitor capable of displaying custom content. When used in conjunction with the Digital Learning Suite, the space—which has a separate entrance—can also be used for the display of video materials.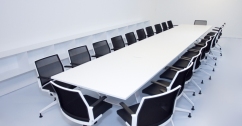 Seminar Room
The seminar room offers exceptional executive quarters for meetings of up to 25. There is a fixed conference table and video capability.
Amenities
Private viewings of Museum exhibits
Multiple opportunities for video projection
Vintage arcade games and interactive exhibits
Both the Cafe and Video Screening Amphitheater are public spaces, and therefore only available for rental outside of Museum hours. For more information about renting spaces at the Museum, please contact BG Hacker at 718 777 6868 or [email protected].

All photos by Peter Aaron / Esto.