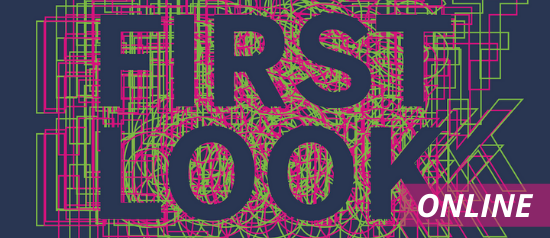 ONLINE PROGRAM

First Look 20/21 Online
July 26–August 8, 2021
This year, for the first time, Museum of the Moving Image is making First Look titles available for streaming online. Though First Look remains at its core an in-person festival, gathering filmmakers from around the world in our building in Queens, New York, this new component acknowledges our audiences beyond the city—those who track our programming from afar as well as those unable to join us during these trying times. Each of these films will screen theatrically at MoMI, then be made available online the following Monday (July 26 and August 2, respectively) after their weekend premieres for one week only, and for limited viewings. Please note that these films are only available to stream in the United States.
Tickets: $10 for each film ($5 for shorts programs). Museum members receive discounted tickets: $5 ($2 for shorts). Series passes: The All-Access Festival pass ($100) includes all on-site screenings, all online screenings, and Working on It programs. For just streaming titles, an all-online pass is available for $60 ($20 MoMI members).

SPECIAL OFFER: use code firstlook30 for 30% off an all-online pass (for non-members).
See All Available Titles (through August 8).

The Grocer's Son, the Mayor, the Village, and the World…
Dir. Claire Simon. France. 2020, 111 mins. New York premiere. In her engrossing film, documentary master Claire Simon charts the establishment of an ultra-modern festival hub and independent documentary platform in a rural village in the South of France. Order and view film here.
Intimate Distances
Dir. Philip Warnell. United Kingdom, United States. 2020, 61 mins. North American premiere. Phillip Warnell's new film, shot on location in Astoria, employs rooftop and ground-level surveillance techniques to track a voluble older woman as she encounters and engages strangers in surprisingly personal conversation. Order and view film here.
180 Degree Rule
Dir. Farnoosh Samadi. Iran. 2020, 83 mins. U.S. premiere. Forbidden to attend a family wedding without her husband, a schoolteacher from Tehran finds herself caught between impulses of independence and fealty, movement and stability in Farnoosh Samadi's debut feature. Order and view film here.
Nofinofy
Dir. Michael Andrianaly. France, Madagascar. 2019, 72 mins. New York festival premiere. In Michael Andrianaly's marvel of formal economy and patient empathy, hairdresser Romeo is forced to open up shop in a residential neighborhood after his salon is destroyed by the municipality. Order and view film here.
Comets
Dir. Tamar Shavgulidze. Georgia. 2019, 71 mins. U.S. premiere. Georgian director Tamar Shavgulidze's sensitive tale of hidden sexuality follows Irina, who, after more than three decades, returns to the summer house of her youth on the outskirts of Tbilisi, and reunites with Nana, with whom she shared an inseparable bond that raised eyebrows.Order and view film here.
Il Mio Corpo
Dir. Michele Pennetta. Italy, Switzerland. 2020, 81 mins. New York premiere. Screening with Three Songs for Benazir (Dirs. Elizabeth Mirzaei, Gulistan Mirzaei. Afghanistan, United States. 2021, 22 mins. New York premiere.) In this bracing work of experiential nonfiction set on the outskirts of Sicily, young Oscar collects scrap metal along the sides of the road to help his family, while Stanley, a Nigerian refugee, works a farm and other odd jobs, unclear whether or not he'll be paid, or if he'll be allowed to remain in the country. Order and view film here.

Zinder
Dir. Aicha Macky. Niger, France, Germany. 2021, 82 mins. North American premiere. In a former leper colony within Zinder, one of Niger's largest agricultural centers, ex-cons form clubs to fortify against immiseration and recidivism; returning to her hometown, Aicha Macky brings us close to their everyday realities and inner lives with devastating honesty. Order and view film here.
Stories from the Chestnut Woods
Dir. Gregor Božič. Italy/Slovenia/Germany. 2019, 81 mins. Set amid the forests along the Yugoslav-Italian border in the years after World War II, and shot on gloriously vivid Super 16mm and 35mm film, this fable follows a stubborn old carpenter whose self-preoccupations blind him from his wife's rapid descent into illness. Order and view film here.

Four Stories: New Non-Fiction Shorts
If We Say That We Are Friends (Dir. Yaara Sumeruk. United States, South Africa. 2019, 17 mins. New York premiere.) Yaara Sumeruk scrutinizes the Dine with Khayelitsha supper club in Capetown, which invites suburban white Capetonians to break bread with Black Capetonians in the townships.
Aqui y allá (Dir. Lina Rodriguez. Canada, Colombia. 2019, 22 mins. U.S. premiere.) Lina Rodriguez weaves together 16mm footage, mini-DV tapes, and personal photos to construct a patchworked map of impressions of time spent with her family in Chipaque, Colombia.
Some Kind of Intimacy (Dir. Toby Bull. United Kingdom. 2021, 6 mins. U.S. premiere.) A filmmaker's wordless communion with the sheep who graze the plot where his parents are buried becomes a plaintively comic scene when he receives an unexpected call.
The Harvesters (Dir. Derek Howard. Kenya, Canada. 2019, 6 mins. New York premiere.) This richly sensory film renders each stage of a honey harvest by three Maasai men with hypnotic concentration.
Order and view films here.
First Sight: 2019 Award-Winning Shorts from the Jonathan B. Murray Center for Documentary Journalism*
All These Marks (Dir. Grace Noteboom. United States. 2019, 11 mins.) In a tiny tattoo shop in Springfield, Missouri, men with hate tattoos confront the choices of their pasts and attempt to make a better life for themselves and those they love.
The Lost Cause (Dir. Devine Utley. United States. 2019, 13 mins.) With more than 100 monuments to the Confederacy across the state, lawmakers in Raleigh are forced to reckon with their own Confederate memorials on the State Capitol grounds.
Holy Fire (Dir. Sam Roth. United States. 2019, 28 mins.) George Scott, a military veteran and Lutheran pastor in rural central Pennsylvania, took a leave of absence from his congregation to run a competitive race for U.S. Congress in 2018.
Qualm & Quietus (Dir. Phoebe Mussman. United States. 2019, 21 mins.) This character study/essay film follows a woman as she steps down from leading a pagan sanctuary to embrace Hekate, the Titan goddess of the underworld and all things in transition.
Order and view films here. *Please note: This program was part of First Look 2020 and is not included in this year's on-site festival.
Bird Talk
Dir. Xawery Żuławski. Poland. 2019, 138 mins. DCP. In Polish with English subtitles. U.S. festival premiere. Working from an unrealized script by his father, the late master Andrzej Żuławski, Xawery Żuławski unleashes a wild, urgent, friskily entertaining explosion of cinema. Order and view film here.


Bottled Songs 1-4
Dirs. Chloé Galibert-Laîné, Kevin B. Lee. Germany. 2020, 64 mins. New York premiere. An epistolary inquiry into propaganda videos attempts to reconstitute the lived experience of the self-proclaimed caliphate's prisoners and recruits while deconstructing the videos' inflammatory rhetoric in the lineage of documentary.Order and view film here.
Don't Touch Me (Noli me tangere)
Dir. Christophe Bisson. France. 2019, 80 mins. North American premiere. In his spellbinding body of work, French filmmaker Christophe Bisson creates a tapestry out of filmed portraits of men and women who are social outsiders. Order and view film here.
Forensickness
Dir. Chloé Galibert-Laîné. France, Germany. 2020, 40 mins. New York premiere. a hopscotching relational inquiry into contemporary forms of hermeneutics and rhetorics of authority from Reddit threads to cable news to Hollywood reenactments, ultimately suggesting a fundamental ethical sympathy between artist and conspiracy theorist. Bonus: Q&A with Galibert-Laîné. Order and view film here.
Phases of Matter
Dir. Deniz Tortum. Turkey. 2020, 71 mins. North American premiere. An immersive depiction of Istanbul's venerable Cerrahpaşa Hospital, where filmmaker Deniz Tortum was born and where his father has long worked as a doctor, pitched between the eerily posthuman and the urgently humanist. Bonus: Q&A with Tortum. Showing with When Two or Three (Dir. Carmine Grimaldi. United States. 2019, 22 mins. New York premiere.) Order and view films here.
A Rifle and a Bag
Dir. NoCut Film Collective: Cristina Haneș, Isabella Rinaldi, Arya Rothe. India, Romania, Italy, Qatar. 2020, 89 mins. New York premiere. On the outskirts of the jungle, the precarious existence of a young family of ex-revolutionaries, pardoned and resettled under a government surrender policy for Naxalites (Maoists), reveals itself gradually, by day and night—captured by the all-women NoCut Film Collective. Bonus: Q&A with filmmakers Cristina Haneș, Isabella Rinaldi, Arya Rothe. Order and view film here.

Searching Eva
Dir. Pia Hellenthal. Germany. 2019, 84 mins. DCP. New York festival premiere. Eva Collé is a woman who lives in public: a writer, model, queer activist, sex worker, social media personality. And though all are represented in the film, director Pia Hellenthal takes care to never define Eva, whose notoriety is dispersed among various social media platforms and avatars and purposely avoids being pigeonholed into a fixed identity. Order and view film here.
There Will Be No More Night
Dir. Eléonore Weber. France. 2020, 76 mins. New York City premiere. Repurposing previously published infrared footage from American and French helicopter missions on the "war against terror," Eléonore Weber's penetrating and critical essay film simultaneously simulates and interrogates the perceptual and procedural conditions that govern real-life military kill decisions. Order and view film here.