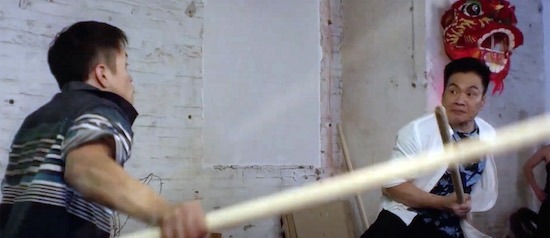 SCREENING & LIVE EVENT
Made in Chinatown
Part of Fist and Sword (2021)
Thursday, August 19, 2021, 7:30 p.m.
Museum of the Moving Image – Redstone Theater
Doors open at 7:00 p.m. for photo opportunity with cast and crew.
In attendance: Tony Darrow, Vincent Pastore, Paul Borghese, Theresa Moriarty, Shuya Chang, Tak Wah Eng, Shing Ka, Geoff Lee, Karen Lee, Mark Wiley
Dirs. James Lew, Robert J. Samuels. 2021, 89 mins. It's Goodfellas meets Ip Man when a young Chinese nobody (Jay Kwon) sets out to become a Don in the Italian Mafia in the new martial arts / mob comedy from Vision Films, Inc. But tensions are high between the two cultures as they move into each other's turf and a dirty crime commissioner (Raymond J. Barry) is playing all sides. It turns out that earning respect, finding love, and discovering his identity doesn't come so easy. He'll have to fight his way to the top. Turning stereotypes on their heads while delivering lots of action, Made in Chinatown stars everyone's favorite mafiosos Tony Darrow (Goodfellas), Vincent Pastore (The Sopranos), Chris Caldovino (Boardwalk Empire), Tony Ray Rossi (Donnie Brasco), Paul Borghese (Law & Order: SVU), and legendary kung-fu fighters Lo Meng (Five Venoms) and Chiu Chi Ling (Kung-Fu Hustle), and Tak Wah Eng (Revenge of the Green Dragons). Also starring Shing Ka (The Manchurian Candidate) and Shuya Chang (Crouching Tiger, Hidden Dragon 2), and more! Written and produced by Martial Arts Hall of Famer and award-winning writer, Mark V. Wiley. Arrive early to take photos with the cast and crew. Part of the monthly martial arts series Fist and Sword, curated by Warrington Hudlin.
Tickets: $15 / $11 senior and students / $9 youth (ages 3–17) / Free for MoMI members ($7 Classic Members). Order online. After your purchase, an electronic ticket will be sent via email. All seating is general admission. Please review safety protocols before your visit.