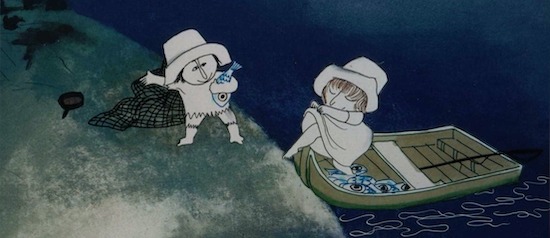 SCREENING & LIVE EVENT
A Family Affair: The Hubleys' Animated Shorts
Part of World of Animation
Saturday, December 11, 2021, 12:30 p.m.
Museum of the Moving Image – Redstone Theater
The screening on December 11 will be introduced by Ray Hubley
In 1956, the artistic team and married couple John and Faith Hubley vowed to make one artwork a year "for themselves" amidst all the other work they produced for hire; amazingly, they stuck to this commitment for nearly 20 years. The films they made together broke the mold: avant-garde yet accessible, thoughtful, vibrant animations that delighted both the youngest viewers and the most sophisticated critics. John had worked for Disney, and then moved to the innovative mid-century animation studio UPA, before starting his own studio, Storyboard. Faith, an artist and activist who traveled the world, was trained in studio film production. Many of their films were collaborations with renowned musicians—including Benny Carter, Dizzy Gillespie, and Quincy Jones—and some featured John and Faith's children: Emily and Georgia putting on a play in A Windy Day, and Mark and Ray attempting to recapture a lost pet in Moonbird. The Museum is pleased to present an all-ages program of eight shorts by the Hubleys, in 35mm prints struck by Cinema Conservancy on the occasion of John Hubley's centenary in 2014.
Total running time: 70 mins. All presented in 35mm.
Adventures of an * (asterisk)
A joyful rumination on the value of art in modern life, set to an original score by jazz legend Benny Carter. (1956, 11 mins.)
Moonbird
Against an enchanted nocturnal backdrop, two young brothers set out on an adventure to recapture a lost pet bird. (1959, 10 mins.)
The Hat
Built on the improvised collaboration—both verbal and musical—of Dizzy Gillespie and Dudley Moore, this meditation on world history and the folly of war tells the story of two soldiers patrolling a cold and forlorn border, deep in a nuclear winter. (1964, 18 mins.)
Urbanissimo
A charming parable about urban design and global thinking, set to a playful composition by longtime Hubley collaborator Benny Carter. (1967, 6 mins.)
Eggs
Mother Nature bickers with Death over control of humankind, before a fateful decision is made. Music by Quincy Jones. (1970, 10 mins.)
Of Men and Demons
A simple fisherman faces the challenges posed by climate and modernity, personified by three resourceful demons, in this spirited and painterly fable. Music by Quincy Jones. (1968, 9 mins.)
A Windy Day
Two young sisters share a languid summer day along the shoreline of looming adolescence, playing, squabbling and parsing life, love and mortality. (1968, 9 mins.)
The Tender Game
Boy meets Girl in Central Park: this visually resplendent reading of an age-old story draws deep emotion from its extraordinary musical score of Ella Fitzgerald and the Oscar Peterson Trio performing "Tenderly." (1958, 6 mins.)
Tickets: $15 / $11 senior and students / $9 youth (ages 3–17) / free or discounted for MoMI members.
Order online.
Please pick up tickets at the Museum's admissions desk upon arrival. All seating is general admission.
Review safety protocols before your visit.